WHAT ARE ANION SANITARY NAPKINS?
Love Moon

Anion

Sanitary Napkin by WINALITE is a revolutionary innovation for improved sanitary protection. Only WINALITE offers the exclusive sanitary napkin with strongest liquid absorbility, dissemination of

Anions

, anti-bacterial effect

and

lead the industry in anti-counterfeiting effectiveness.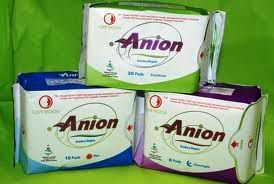 Love Moon Sanitary Napkins are the first and only hygienic antibacterial sanitary napkin in the market today. It helps prevent bacterial multiplication, eliminate odor, and provide comfort during menstrual period.
Anions "promote biological enzymic transformation and balance the acidity and alkalinity. At the same time, under normal temperature, it can emit biological magnetic wave of wavelength 4 to 14 micron at more than 90% emission rate which is beneficial to the human body as it can activate the water molecules in the cells to make them exist at high energy level suitable for synthesis of biological enzymes."

Other sanitary napkins supposedly facilitate the growth of "trichomonad bacteria that can destroy sperms in the vagina to cause infertility." Umm…trichomonads aren't bacteria; they're protozoans. They don't destroy sperm although they may reduce sperm motility.

Winalite includes a patented vaginitis self-test card. If they can diagnose vaginitis that way, medical science would love to know about it.